Events Calendar
Christmas Festival and Cookie Walk
Get ready and mark your calendar for our annual Women of Zion Christmas Festival and Cookie Walk. The date is December 7 from 9:00 a.m. until 1:00 p.m. There will be all kinds of cookies, crafts, a baskets to win. We will also be raffling off a new La-Z boy chair. You don't want to miss this fun morning of shopping.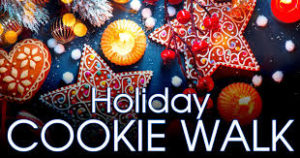 Christmas Eve Worship
Join us again for a great celebration of the birth of our Lord and Savior, Jesus. The Bible is all about God's amazing love for us in Jesus. Worship with us and hear and celebrate the Christmas story of the birth of our Savior. We will have two services on December 24 at 4:00 p.m. and 6:30 p.m. Both services will celebrate the Lord's Supper and conclude with a candlelight service.
Please plan to join us!